Engine oil-it's the lifeblood of your vehicle. If you want your car to dominate the roads of Bluffton, Hilton Head Island, and Hardeeville, you'll need to periodically refresh the oil in your tank. So, where should you go for an oil change near you?
At Porsche of Hilton Head, you'll find a committed service team that'll make your next oil change a breeze. Schedule oil service with us, and you can rest assured that your car's in good hands!
Signs You Need an Oil Change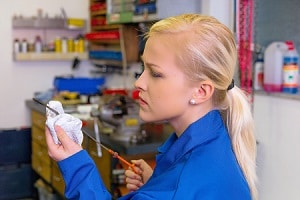 For most vehicles, we recommend having your oil serviced every six months or 6,000 miles as a preventative measure-although luxury cars and cars using synthetic oil can often go much longer. Still, following your recommended service intervals is no guarantee that problems won't arise between intervals.
Always keep an eye out for signs you need an oil change, including:
Dark & Dirty Oil - Your oil should be translucent, smooth, and amber in color, not black and gritty.
Engine Knocking - When your oil isn't performing, you'll hear metal parts grinding in the engine.
Exhaust Smoke - This is a sign that oil may be leaking and burning into your exhaust system.
The Many Ways We Can Help
When you need an oil change, you'll want the expertise and skills of our technicians in our service center on your side. They have experience performing oil service on all types of cars, so you can expect prompt and effective service, no matter what vehicle you drive.
We'll drain your old oil and add some of the fresh stuff-your choice of conventional or synthetic. We can change your oil filter, too, so your new oil can stay cleaner, purer, and more effective for months after you visit us for service. Need your other fluids checked, too? We can handle that as well!
Get an Oil Change near Me
Hardeeville, Bluffton, and Hilton Head Island drivers have been choosing us for oil service for many years, and we're happy to extend our services to you. When you need an oil change near you, schedule service at Porsche of Hilton Head. We'll be here waiting for you!