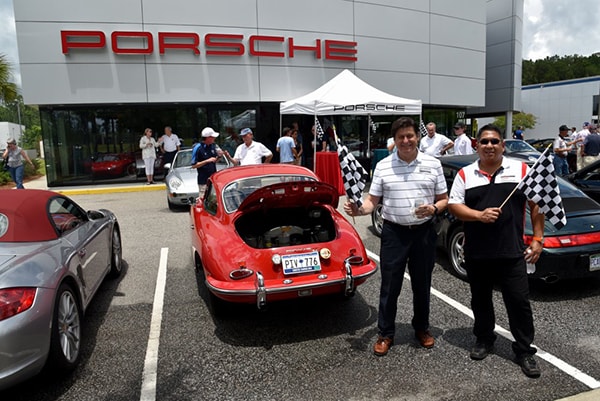 On Saturday, June 9, Peacock Automotive brought together sports car lovers from across Coastal Georgia and the South Carolina Lowcountry to celebrate the 70th birthday of Porsche's line of premium automobiles.
"The 70th anniversary is an essential reminder and celebration of the brand history and heritage and the community of owners and enthusiasts who share our passion," said Warner Peacock, president and CEO of Peacock Automotive. "It is also a unique opportunity for Porsche enthusiasts to celebrate together and participate in a global event in typical Porsche fashion."
Guests celebrated "Sportscar Together Day" — an event that featured an international twist
Members of the local chapter of the Porsche Club of America, Coastal Empire Region, displayed a wide variety of Porsche automobiles that conveyed the decades of the brand's evolution.
The Porsche brand was born in Stuttgart, Germany, in 1948 when the company's founder, Ferdinand "Ferry" Porsche created a prototype two-seat open sports car designed as the 356 "No. 1" Roadster. What may be Porsche's best-known model, the Porsche 911, was launched in 1963. By the beginning of 2018, more than one million 911's had been manufactured.
Peacock Automotive's 70th birthday festivities included a block party featuring Bavarian-inspired food from Skull Creek Boathouse, along with entertainment by a DJ and a Porsche birthday cake to celebrate the brand's history and passion.
"With an event of this magnitude it is important to highlight the global nature of this program," Peacock said. "Sportscar Together Day was our first global celebration, fueled by events around the world along with active online communities and social media. But, it is primarily an opportunity to get together as a community to celebrate the thrills of being sports car owners and enthusiasts.